WELCOME PACKAGE & FAQ
BASIL AL-SAIGH'S COMPREHENSIVE FAMILY MEDICINE + WALK IN CLINIC
(members of the Finch Weston Family Health Organization)
Dr. Basil's clinic offers a broad range of primary care services focused on chronic disease prevention and management, immunizations from infants to adults, as well as walk-in and episodic care.
Specifically, Dr. Basil Al-Saigh provides comprehensive family medicine, women's health, children's health, geriatric and walk-in services, including completion of a wide variety of government, third party, work, insurance and other forms of paperwork.  Dr. Basil is very focused and committed to excellence in patient care and the overall health of the Emery Village community.
Dr. Basil's clinic is located within an accessible building at the SW corner of Finch Avenue and Weston Road.  We work from a space adjacent to that of three other family physicians.  Collectively – and along with a fifth family physician who practices from the same district – we are members of the Finch Weston Family Health Organization.
Other services are available within the plaza, within walking distance and/or within a few minute drive from our clinic.  These include an imaging centre (same day x-ray and ultrasound service often accommodated), Gamma Dynacare Laboratories, Chiropractic Services, a Hearing Centre, two Pharmacies, Humber River Regional Hospital, a Chronic Pain and Methadone Clinic, and more than a dozen specialists.
Our centre is accessible from Highway 400, 401 and 407 in less than five minutes. 
Our patients find the services offered to be convenient, and the expertise top-notch.  Please contact us if you have any questions.
Which doctors are currently part of Finch Weston Family Health Organization (FWFHO)?
Basil Al-Saigh – 2367 Finch Avenue W – Toronto ON M9M 2W8 – Phone: (416) 900-6697, Fax: (416) 900-6041

Patrick Safieh – 2367 Finch Avenue W – Toronto ON M9M 2W8 – Phone: (416) 7448-510, Fax: (416) 744-7642

Katherine Kosar – 2367 Finch Avenue W – Toronto ON M9M 2W8 – Phone: (416) 744-8510, Fax: (416) 744-7642

Ferase Rammo – 2367 Finch Avenue W – Toronto ON M9M 2W8 – Phone: (416) 744-8510, Fax: 416-744-7642

Geoff Forbes – 2065 Finch Avenue W – Suite 310 – Toronto ON  M3N 2V7 – Phone: (416) 745-6244, Fax: (416) 746-6917
---
What is the weekly schedule of Dr. Basil?
NOTE: Times are likely to change on a weekly basis.  Please check with our reception staff, call us at 416-900-6697, or check on the Announcement section of our website.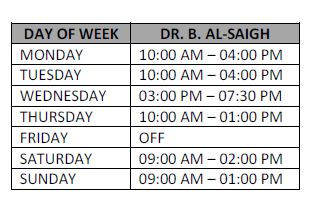 What is the weekly schedule of other doctors in this Group?
NOTE: Times are likely to change on a weekly basis.  Please check with our reception staff, call us at 416-900-6697, or check on the Announcement section of our website.

---
Benefits of Enrolling with Dr. Basil:
Medication reorders may be accommodated by phone without having you come in to see the doctor.

Certain after hour and weekend medical concerns may be dealt with by phone and a prescription, if required, can be called in to your nearest pharmacy.

You can connect with Dr. Basil by way of phone or email.

Many non-insured services such as sick notes, and other paperwork, are usually paid for by the patient out of pocket, at prices agreed to by the Ontario Medical Association. By enrolling in this group, these charges will either be waved or significantly discounted.
What if I want to be seen as a walk-in but I do not want to enroll?
Because this is primarily a family practice, walk-ins will be accommodated but (unless it is urgent) will not be referred for further care for diagnostics, blood work or to other physicians.  Most walk-in visits should be resolved in 1, 2 or 3 visits.  If you plan to see the doctor more often or you live/work in the area, please try and decide within a few walk-in visits if you would like to enroll in this practice.
That being said, no walk-ins who need medical care will be refused 🙂
Can I see other doctors OUTSIDE the group, if Dr. Basil is away?
For better continuity of care – and because our group of five physicians share your health records within our secure electronic record system – the Ministry of Health and Long Term Care asks that were possible you try are seek all your primary care services from Dr. Basil, and – failing that – from the group of five physicians noted in this FAQ.
You should note that we open 7 days a week, we open after hours on 4 weekdays, and where the issue arises after office hours, Dr. Basil is available (preferably by email and secondarily by phone) for urgent consults.  Please note that this service does not substitute for your need to decide if your issue is more appropriately addressed by calling 911 or by going to the nearest Emergency Department.
Unless you are traveling or in need of emergency services, you are HIGHLY ENCOURAGED to avoid using the services of ANY family physicians not affiliated with the Finch Weston Health Organization.
Will Dr. Basil see me as a walk in or by appointment?
Enrolled patients can pick a date and time of their choosing and be seen by appointment.  Patients with an appointment will be given priority over walk in patients.
Our first appointment of each working day is at 9:30 am and our last appointment is at 4:45 pm.  On Wednesday, our last appointment is at 6:45pm and on Saturday our last appointment is at 3:30pm.
What sort of issues does your Most Responsible Physician i.e. Dr. Basil take care of for you and what sort of things can other physicians in the group help you with?
Generally, your most responsible physician (Dr. Basil) will:
complete all your paperwork from Employers, Insurance, WSIB, Ontario Works, ODSP, Work, School, etc.

refer you to Specialists

refer you for non-urgent or urgent imaging and blood work

do your Periodic Health Exams

screen you for Cancers

explain the significance of incoming imaging or blood work or consult reports

counsel you

change your medications

complete your child's well baby visits

complete prenatal evaluations

monitor your diabetes, heart failure, asthma, thyroid disease, among other things
Other doctors in the group can be useful for:
treating you for any condition of a walk in nature that developed in the past week or less

referring you for urgent tests as determined by your condition

re-ordering your medications

providing a second opinion if you and your physician agree to seek one
What if I enroll with Dr. Basil and I then change my mind?
If you enroll with Dr. Basil and then change your mind, all you have to do is notify the staff and your name will be removed from the group list immediately.  You can also ask for your record and they will be made available in a few days pending volumes, and for nominal fees.
What if I want to transfer to another physician within this group?
The physicians in this group prefer that patients generally do not transfer care to other physicians within the group.  If a patient wants to transfer care for language reasons, or because another physician's schedule is better suited to them, they must approach their current provider and have a discussion after which the providers will speak among each other to facilitate the transfer.  In general, if a patient wants to leave their provider, they should be prepared to leave the group and seek care elsewhere.
What happens when Dr. Basil is not available to see me?
If the issue can wait, it is always best to see Dr. Basil Al-Saigh on their next available shift date.

If issue cannot wait, and the concern arises during regular office hours Monday to Friday and Dr. Basil is not working, please explain the circumstance to the receptionist and they will walk you to another doctor who is part of the group so that you can be seen immediately.  Please keep the Guideline to Seeing Other Providers in this Group in mind.

If the issue cannot wait, and the concern arises after hours or on weekends after the clinic is closed and other group doctors are closed, go to your nearest emergency department, call 911 or if the situation is not an emergency call Dr. Basil. His direct access phone number and email will be provided to you if you ask our Office Manager.